Glofiish M750 and M810 smartphones launched by E-Ten
E-Ten has launched a new pair of Windows Mobile 6.0 Professional QWERTY slider style handsets, the M750 and M810, which apparently have been slotted to become E–Ten's new flagship smartphones. Both have been designed to true E-Ten tried and trusted style, the horizontal slide design with full QWERTY keyboard which slides away under the display.
Both the M750 and M810 can stack up against the best Windows Mobile handsets on the market feature wise, which means you can expect, quad-band GSM 850/900/1800/1900Mhz radio, GPS integrated Google Maps, 2.8 inch touch-screen display, Bluetooth 2.0, WiFi 802.11b/g, Samsung S3C 500MHz processor, and 256MB ROM, all neatly squeezed into its 109.5 x 59 x 17.5mm casing.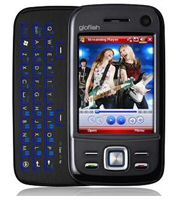 So what's the difference between the high-end M810 and the low-end M750? E-Ten have given the M810 HSDPA, while the M750 has EDGE. These two smartphones look promising, but E-Ten's old recessed pressure sensitive touch-screen is somewhat dated against the likes of Samsung or the Apple iPhone. Expect to see the E-Ten Glofiish M750 and M810 hitting the worldwide market within a couple of weeks, but as yet price is still a mystery.
Source — glofiish