India has Mobile Phone Street Repair Service
Big business apparently in India, technicians in the street repair service for mobile phones can actually gain a full-fledged diploma for it from a "Mobile Repairing Institute." Apparently, Jan Chipchase leads a team for Nokia which are trying to bring down the cost of phones for emerging markets, apparently an effort which is also eco-friendly.
The Nokia group of 15 have apparently scanned street shops and bazaars throughout countries such as China, Mongolia, Vietnam, Egypt, Uzbekistan, India, Brazil, Iran, and Ghana just to find out just how end-users actually relate to their mobile handset.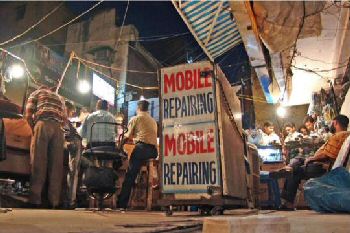 Their main finding? Well apparently there is no limit on how a mobile handset can be modified, or even how long a handset's life can be expanded. What's more they also discovered that putting new life into your handset doesn't actually require a complex set of mobile modification tools; in a lot of cases all one need is a screwdriver and toothbrush both dipped in alcohol.
Source — news.com