Zinc II WinMo 6.1 Smartphone by MWg
Windows Mobile Touch-screen handset users must surely be a tad peeved at the moment, as the recent announcement of the much needed update to Microsoft's Windows Mobile platform, although looking great seems the most interesting improvement such as the Today screen enhancements have so far been limited to Windows Mobile Standard.
It seems strange that Microsoft would blatantly deprive virtually half of their potential market of these features, especially as the newer vision of the OS isn't due until later on this year. However there seems to be one advantage to the Windows Mobile 6.1 and that is speed.
Looking at the Zinc II Windows Mobile 6.1 handset from MWg, its 500MHz Samsung processer is quite speedy in its own right, while the response of the Zinc II seemed to be improved somewhat over other Windows Mobile 6 smartphones sporting a similar configuration.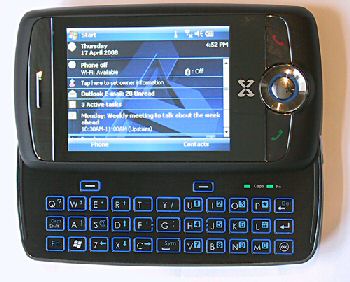 Firing up seven or eight applications didn't seem to slow the zinc II down either as is the case with other smartphones, a previous positive way of slowing Windows Mobile right down to an agonizing crawl, yet it didn't affect the Zinc II it just continued regardless.
The Zinc II's 2 megapixel camera is also quick and extremely responsive, simply click the shutter release and the image is snapped instantly, even performs immediately as the camera's top 2 megapixel resolution; simply not time lag or waiting around unlike the HP614c or the TyTN II.
There's a boost to performance on the Zinc II which is a big bonus because the user doesn't have to keep flipping to the task manager to keep the handset running smoothly, allowing the user to use the phone as it is originally intended; no more waiting around for that cursed Windows Mobile hourglass.
The lack of certain Microsoft user interface improvements is offset a tad by the inclusion of a propriety Quick Launch app, which is easily activated via a button on the side of the Zinc II , and allows thumb/finger access to functions and apps. The user will note that the first screen provides only four shortcuts which are for pictures and video apps, the handsets camera feature, games and Windows Media Player. However, with a swipe of a finger across the touch-screen a rotating animation brings up more shortcuts, contact screen and configurable applications.
The MWg Zinc II Windows Mobile 6.1 Smartphone is available at around £449.94 inc vat
Source — trusted reviews