FreeMobile411 from V-ENABLE available for Sprint
V-ENABLE a local mobile search and directory assistance services provider has announced a fully featured Java ME based version of FreeMobile411 is available to download to Sprint customers. The fast and easy to use voice enabled app will allow a user to speak whatever they are looking for by depressing and holding the talk key on their mobile handset and watching the results display on-screen within a matter of minutes.
Unlike other directory assistance solutions FreeMobile411 doesn't just bring access to 140 million residential, along with 14 million businesses, also the user will be able to browse by category such as…driving directions, and get maps, see other businesses nearby; all for free as well. On top of which, the handset user receives the option to connect to an operator even during the process.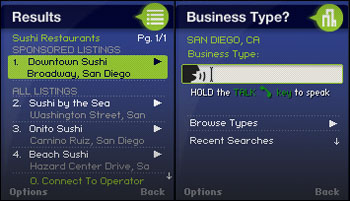 Customers of Sprint can register for their FreeMobile411 download the application via link in the SMS and job done. Rivals of Sprint, the non-Sprint customers that is, can still register via SMS and will be notified when FreeMobile411 becomes available for their handset and/or carrier; or visit freemobile.com and grab the app from there.