McAfee developing antivirus for Apple iPhone?
Just a moment, as far as I'm aware there isn't a single virus that exists for the Apple iPhone, and then taking into consideration just how stringent Apple is at controlling 3rd party app deployments, it is somewhat doubtful we will be seeing any serious virus breaches on the Apple iPhone soon. There will of course be a few problems with Safari it's to be expected but nothing major Apple couldn't fix with a quick upgraded firmware shot.
Although that being said it hasn't stopped McAfee from forging ahead and developing its antivirus software, so called iVirusScan, for the Apple iPhone platform. Although there is no conformation on whether McAfee is actually working on a solution however, from the looks of the screenshots it does look real, although I guess any skilled Photoshopper would be able to conjure up a suitable likeness.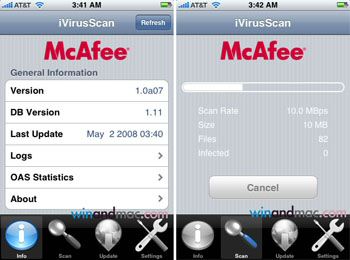 One thing that springs to mind though is if Apple would admit it straight away if an iPhone malware starts appearing, or would they remain silent and simply issue a hurried update that will sort the problem out and fix and security gaps or bugs? Well only the future will tell I guess, but if we hear anything we will of course let you know.
Source — slashphone