Palm Treo 800w set to hit in June
A few new mobile handsets are close to launch what with the HTC Touch Diamond and HTC Raphael ready to compliment Sony Ericsson's XPERIA X1 all high end smartphones, and then there's the 3G Apple iPhone being readied for launch later in the year. Well now it appears Palm are adding to the mix with their latest handset the Palm Treo 800w.
Palm have been trying hard to revive their lacklustre product line, they began with the launch of the popular Palm Centro and will now be launching their Windows Mobile 6.1 Professional Palm Treo 800w. Which according to latest whispers will be officially launching on 22nd June, and apparently will have an official colour of Charcoal Black.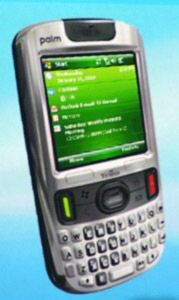 With the Palm Treo 800w, their own version of the SMS system to handle threaded SMS text messages rather than the Windows Mobile system. The Palm Treo 800w is expected to have a slightly recessed 320 x 320 touch-screen display, EVDO Rev.A, WiFi, and according to rumours we can expect to see a slightly larger keyboard to that of the Palm Centro, and apparently with light-up keys.
Apparently this is what the new Palm Treo will look like, although it is somewhat difficult to tell from this

Source — wmexperts