Pictures of Apple 3G iPhone possibly?
With June pending everyone's is on the lookout for possible photos of what could possibly be Apple's next generation handset, and a few pictures claiming to be of the 3G iPhone have emerged from Chinese forum WeiPhone.com.
These pictures presumably show the Apple 3G iPhone in white with redesigned speakers and dock connector, a more tapered design, extra sensor near the earpiece, and of course the gloss plastic case which has been rumoured to much to herald the next generation Apple iPhone.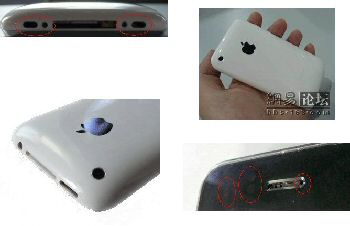 So, taking all these facts under consideration it could be conceived that what we have his is a legit preview of Apple's up and coming 3G iPhone handset. However, and yes there always is one, take into consideration just how secretive and notorious Apple is for circulating fake mobile handsets to make sure no one really knows what is actually coming, it could well be a fake.
Then again, should this actually be the real Apple 3G iPhone, it looks as if it's a refreshed take one the current first-gen iPhone. Nice clean line along with white glossy casing looks attractive, so all it seems to be now is a matter of waiting.
Source — appleinsider