LG Vantage and Samsung Ace set to be unleashed by Bell Canada
Bell Canada has taken the stance that their customers want cool tricked out mobile phones, and they may well be right. So in the very near future Bell Canada are putting out the LG Vantage and Samsung Ace. The Samsung Ace is a dual-mode mobile handset with dual-band GSM and EV-DO connectivity, but sadly a lack of 3G with Windows Mobile 6 Standard, beautiful Blackjack feel, a lowly 1.3 megapixel camera and the tried and tested microSD; the Samsung Ace should launch 12th May, but as yet no word on pricing.
Coming on the scene also is the LG Vantage a real slick design slider with a touch-screen, Bluetooth, 2 megapixel camera, and as usual the good old microSD this time allowing up to 4GB memory. The LG is to follow the Samsung Ace on the 16th of May with a tentative price tag of $225.00 with 3 year contract, $325.00 for 2 year and $425.00 contract free.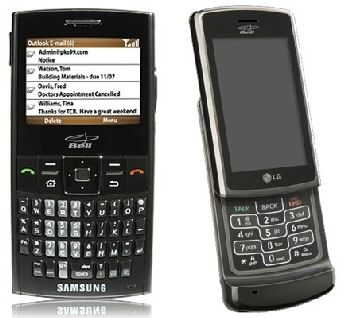 Source — mobileincanada