Official debut RIM BlackBerry Bold otherwise known as the BlackBerry 9000
Research in Motion has finally taken the wraps of their latest smartphone the BlackBerry Bold, which some know as the BlackBerry 9000. RIM names this much rumoured mobile device the Bold firstly in reference to its large display, but also in reference to the bold moves in the mobile world the company is taking.
The BlackBerry Bold/9000 features a half VGA 65k colour display, and while in research the research group kept referring to it as the "bold and brilliant" however the brilliant didn't quite gel, so the Blackberry Bold was born. But is it as bold as its name? Well the guys at CNET got hold of one and they say the display is just amazingly crisp and sharp with none of that typical blurriness expected with most mobile handsets. The BlackBerry Bold/9000 also incorporates a revamped interface with a more modern looks and modern icons.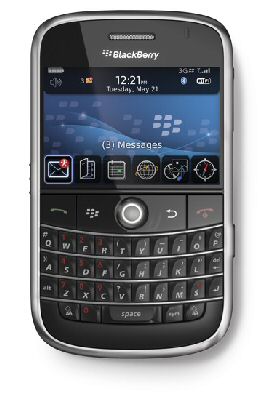 If you take a look at the images you will see that the BlackBerry Bold/9000 has a new elegantly styled design with a silver trim and clean curved edges, and stylish black casing. You will note there is a lack of plastic with the BlackBerry Bold/9000 as its read side is black leatherette, and RIM is also to sell replaceable back-plates in differing colours as well such as grey, blue and red.
So, how about those measurements with the BlackBerry Bold/9000? Its 4.5 inches tall, 2.6 inches wide and half an inch thick with a weight of just 4.7 ounces, and incorporates a new QWERTY keyboard which RIM likens to that of a modernised Curve keyboard. The Bold/900 is a quad-band handset GSM 850/900/1800/and 1900, and also has HSDPA/UMTS support thus making it the first such equipped BlackBerry mobile phone.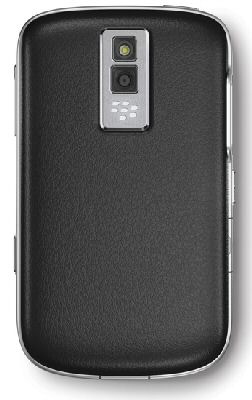 One of RIM's reasons for delaying the BlackBerry Bold/9000 was that they needed a battery that would handle the 3G technology. While other features in the BlackBerry Bold/9000 are built in GPS, Bluetooth 2.0 with full A2DP support, and integrated WiFi. The BlackBerry Bold/9000 unlike previous BlackBerry's which are powered by a 312MHz processor, is run by a 624MHz Intel PXA270 processor for a smoother and faster experience.
The BlackBerry Bold/9000 also has 128MB flash memory along with a 1GB onboard memory, supplemented by a microSD/SDHC expansion port. While multimedia is taken care of firstly by an improved web browser which gives the user the option to view webpage's in full desktop HTML style or simple as a mobile version, there is a trackball for ease of navigation which also act like a cursor. The camera is a 2 megapixel with video recording function with up to 5X zoom, while the BlackBerry Bold/9000's music player supports numerous formats such as WMV3, DivX4, AAC, WMA and MP3 files, and comes with a 3.5 headphone jack. The BlackBerry Bold/9000 also incorporates Dataviz's Documents to Go suite and believe it or not, can also make calls and send texts!
Unfortunately though RIM isn't quite ready to let loose the BlackBerry Bold/9000 on the general public as its presently going through carrier certification, and while RIM won't say who the carrier will be it's a sure guess it will possibly begin with an A and maybe end with T&T. As for that all important pricing, it will obviously depend on which carrier gets it, but RIM is reckoning at somewhere between $300.00 and $400.00, with an anticipated worldwide availability sometime in summer.
Source — news.com/