3G data settings of Apple iPhone shown on iPhone OS 2.0 beta firmware
There's no doubt Apple will be bringing 3G to the table, but how did they manage to get over the battery drainage issues which kept the present iPhone from supporting a 3G radio? Well what they did was to allow users to disable 3G data access when a faster speed is needed.
Presumably there will be some technical improvements to the internals which will get the Apple 3G iPhone much closer to Steve Job's want of getting "battery lives for 3G get back up into the 5+ hour range." Although I can't see the 3G version surfing 3G waves and lasting for the 6 hours on the present generation iPhone.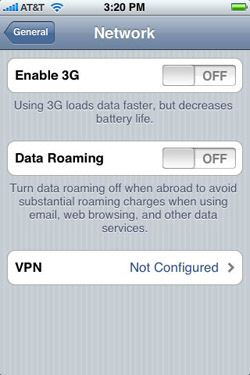 Taking a look at the iPhone OS 2.0 beta 5 firmware it shows that the 3G iPhone offers the mobile phone user the option to switch off 3G connectivity to preserve battery life. So the user need only to switch on 3G when like surfing image laden websites, while disabling the 3G to force the Apple iPhone to become more power- conserving and use EDGE data connectivity for RSS reading, stocks, and email checking.
Source — chronicproductions