Carphone Warehouse wants to add Tiscali to TalkTalk and AOL portfolio
So the Carphone Warehouse has made a bit to purchase Tiscali with a view to adding them to their TalkTalk and AOL broadband portfolio, however the bid of £550 million is apparently only for Tiscali's UK operation because Carphone Warehouse isn't apparently interested in taking the ISP's Italian services.
Since April last year there have been rumours, whispers that Carphone Warehouse was going to bid for Tiscali, and other possible bidders included BT. Tiscali simply said it was looking for a buyer and other bids have been made for the company.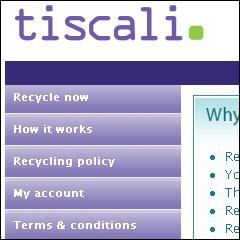 In the UK, Tiscali has 2 million broadband customers and if the Carphone Warehouse can add them to TalkTalk and AOL it would make the Carphone Warehouse the largest broadband provider in the UK. Tiscali is a good fit with TalkTalk as both ISP's are active in local loop unbundling which means they don't rely on BT's network to provide telephony and broadband services.
Announced recently was US company Best Buy's intention to invest £1.1 billion in The Carphone Warehouse.
Source — webuser