BlackBerry Bold 9000 in Canada: Rogers Wireless gets their hands on it
It is looking good for Canada because it seems which is no surprise Rogers Wireless will carry the stunning BlackBerry Bold 9000.
We have talked a numerous amount of times about the new BlackBerry Bold and with Rogers Wireless being the first carrier to offer this amazing new device in Canada means good news all round for the Canadians. We new this would happen because RIM is a Canadian company, we all know that the states is a much bigger market for the BlackBerry Bold which is strange that Rogers Wireless got it before AT&T got the exclusive launch rights for the U.S, it is only fair that Canada gets the rights first would you not agree.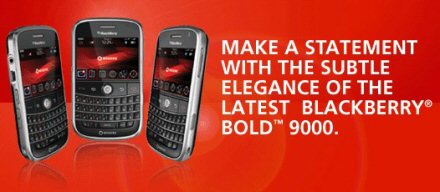 As usual there is no word on price nor dates just the normal of how good the phone is, how much people love it. Sign up to our newsletter and you will be notified as soon as we get the news.
Source – MobileInCanada