Prototype image in wild of Palm Treo CDMA 800w mobile phone
So here it is, an image apparently of a prototype Palm Treo 800w in the wild along with news that this latest mobile handset is to be rolling under the moniker of "Zeppelin." Few details of the Palm Treo 800w hardware has been confirmed other than it is to be CDMA and incorporate the trusty microUSB rather than the usual miniUSB.
However, prior rumour has it that the Palm Treo 800w will have a touch-screen with 320 x 320 resolution, and also while in prototype form anyway, EV-DO Rev.0. While as far as I am aware this is probably the first time the Palm Treo has been seen "in the plastic."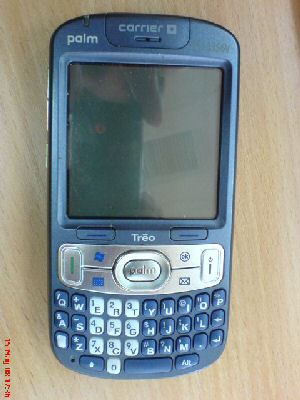 Getting the Palm Treo 800w this far has been a long journey, and is known to be a Windows Mobile 6.1 mobile handset, and has WiFi along with Rev.A EV-DO. There are whispers that maybe the Palm Treo 800w will see the light of release on or around the 22nd of June.
As for the all important appearance of the Palm Treo 800w, it looks to be somewhat of a blend of the Palm Treo 750's thumb keyboard and Palm Centro type main controls. The Palm Treo 800w was expected by many to hit the shelves back in April, but unfortunately near the end of March Palm confirmed there would be a delay of their windows Mobile range until the summer.
Well if Palm actually hit that June release target then it's not too long to wait for those who are looking forward to grabbing hold of the latest from Palm. Let's just hope that Palm doesn't sneak in yet another "delayed" announcement at the back end of this month.
Source — phonemag