Aliph Jawbone 2 Bluetooth headset hands on review plus 3 videos: The good and bad
Update: Yesterday we told you about the all new Aliph Jawbone 2 Bluetooth headset (See Here) so today we thought we would give you the low down on it. Before we start below this review there are 3 videos of this headset for you to watch and enjoy.
First of all let me say what is good about the Aliph Jawbone 2, well it is highly fashionable there is no questioning that plus it is very comfortable to wear and probably has one of the best noise-canceling and voice-enhancement technologies than any other headset which gives you true quality. The bad points on this headset are that it does not have a volume rocker and the LED light is right on top of the talk button. Overall this has to be the best headset on the market in design and sound quality.
The Aliph Jawbone 2 Bluetooth headset costs $129.99 and this will give you Over 4 hours of talk time, over 8 days standby time, range of up to 33 feet (10 meters), 80% charge in 35 minutes, 100% charge in 1 hour, choices of Black / Silver / Rose Gold and supports Bluetooth® 1.1, 1.2, and 2.0, oh and it only weighs 10 grams.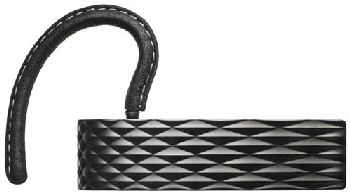 The Aliph Jawbone 2 to me has no negatives what so ever really in the grand scale of things and in that I mean there is nothing really to complain about, it is sexy, light, has very good sound quality and the new ear hook design is very comfortable indeed. The noise-canceling technology has been upgraded to give you clear, no interference listening, it has been upgraded from Noise Shield to Noise Assassin technology which has been thoroughly tested by the military and approved by DARPA (Defense Advanced Research Projects Agency), the U.S. Department of Defense's independent research branch. Ok at $129.99 it is expensive but hey you get what you pay for and it beats using your mobile phone whilst driving doesn't it now.
The styling is nice with its diamond pattern on the front which basically gives you a three dimensional texture, the Aliph Jawbone 2 is so much better than the predecessor because it is 50 percent smaller. What we really like is the fact you cannot see the controls on the Jawbone 2 but you can feel them, you must know that there is no rocker volume controls because the headset automatically adjusts the volume dependant to the environment you are in and this is thanks to the Assassin technology, you can however turn the Noise Assassin off by simply pressing the Noise Assassin button, the Noise Assassin button also acts as a singular volume control, meaning you have to cycle through different volume levels to get to the right volume. All that said, we would've preferred a volume rocker anyway, for ease of use. When you buy this product you will get different size earpiece covers and different ear hooks as well which will give individuals a better fit.
Now please watch the 3 videos provided below, and please do comment we would love to know what you think of the all new Aliph Jawbone 2 Bluetooth headset. Enjoy. You can also visit the product page here.