Iron Man shoot-em-up game on your mobile phone: Are you a super hero?
Marvel Entertainment and Hands-On Mobile are bringing you the ultimate superhero Iron Man to your mobile phone, this new mobile phone game is based around the awesome film which is fantastic.
We all know that this is not the first time Hands-On Mobile has brought us mobile games based on movies because they have already given us Fantastic 4: Rise of the Silver Surfer and X-Men: The Last Stand and apparently they are making a mobile phone game based on the new Hulk movie. The new Iron Man game is a vertical scroller shoot-em-up; we have put a couple of screenshots below for you. Players of this game will be able to visit many locations including those that were in the film itself and then to top it of just go round shooting the hell out of everything that moves.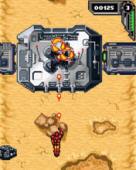 Iron Man the movie is probably one of the best super hero movies that I have seen in a long time and would recommend everyone to go see it, anyway back to the game. In the Iron Man game you are an invincible man with repulsor rays and the devastating unibeam, yes you are the Armored Avenger in this shoot-em-up game. Some of the key features in this game are as follows – Stunning vertically scrolling shoot-'em-up with a Marvel-ous twist!, Take on giant boss characters and the ultimate challenge of Iron Monger!, Based on the live-action movie starring Robert Downey Jr., Gwyneth Paltrow and Terrence Howard, Huge explosions and masses of enemies on land, sea and air, 4 levels of non-stop action based on the summer blockbuster! And Pick up power-ups as you fight, and augment the Mark III armor for maximum firepower.
For more information on how to get this game please visit — Marvel Mobile