Maria Sharapova free wallpapers to promote Sony Ericsson Z555i available
Hot, sexy and stunning tennis sensation Maria Sharapova is now available in wallpaper form. Oh yes Sony Ericsson have recently released free Maria Sharapova wallpapers which will help promote Z555i.
You know damn well by having Maria Sharapova as a brand ambassador who is beautiful is a very good idea, you also know that your would want her on as many promotional items as possible, Sony Ericsson knows this because they have just released Maria Sharapova using the stylish Z555i mobile phone wallpapers that you can have for either your PC or mobile handset. The wallpapers are properly suited to work with the Sony Ericsson Z555i flip phone; other models of phones are cool as well. Can you just imagine waking up in the morning and switching your mobile phone on and oh yeah Maria Sharapova sweet sexy face popping up on your screen smiling at you, what a fantastic way to start your day.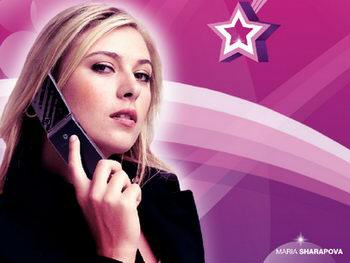 So Sony Ericsson uses Maria Sharapova as their brand ambassador (See Here), well they have recently been using music sensation singer "Usher", you can read all about Sony Ericsson signing Usher to lead the Walkman campaign: Singer promotes W350 and W980 news here.
Update – Sharapova has pulled out of the Italian Open semifinals in Rome because of a strained left calf Saturday, two days before she is to assume the No. 1 ranking because of Justine Henin's retirement last week.