Amoi SPV-E610 mobile phone from Orange
It is hard to imagine anyone going up against the new BlackBerry Bold mobile phone in the email stakes considering all the hyped coverage the BlackBerry Bold has been given lately, but it seems rivals based Windows handsets continue to appear such as Motorola's Q 9h which proved a few weeks ago that taking on the BlackBerry is not entirely a lost cause.
The key factor with a BlackBerry slab style email phone is making sure the keyboard is right, get that right and the rest should fall into place nicely. And this is why Orange's new SPV-E610 mobile phone which is licensed via Chinese manufacturer Amoi, shows off a promising start.
The SPV-E610 mobile phone has angled diagonal keys that don't looks as if they are very usable, and look uncannily like the keyboard of the Samsung i620. However, surprisingly these keys are pretty easy to type on making email and text messaging quite easy along with other tasks such as calendar entries.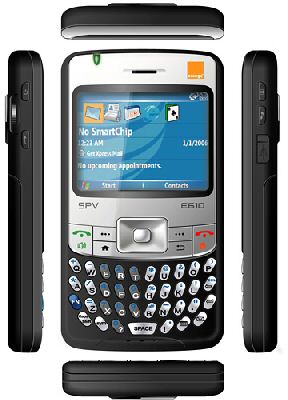 It's not actually the size of the buttons that are helpful to the user, but more the spacing of them which means the user isn't constantly hitting another button by mistake, and they also have a positive click action so you know exactly when they have been entered.
Although the SPV-E610 has a decent keyboard the cluster controls below the screen are not as pleasant to use, as they are just too small while around the edge of the SPV-E610 is a similar story, great to have a scroll wheel, but the power buttons and back button are simply just too small, and so is the Windows Media Player and camera short cut keys.
Looks wise the SPV-E610 is square and blocky and just doesn't really hold that wow factor. It measures 115 x 62 x 13mm and weighs 125g, and has a rubbery finish while the angular profile gives it the look of being bigger than it actually is.
Unfortunately spec wise disappointment follows on HSDPA is out the window leaving just EDGE and GPRS, Bluetooth is 1.2 and not 2.0, and no WiFi either. A 2 megapixel camera with flash just about makes the grade, and the memory is 128MB storage with 64MB RAM with the option to expand by that saintly little microSD slot.
Source — trustedreviews