Samsung SLM mobile phone to be first Napster mobile for consumers
AT&T has announced the Samsung SLM series and has stated it will be the first Napster phone for consumers. The Napster toting mobile handset should hit store shelves on 23rd of November, timed just right for the season of good will, and when people need ideas for that Christmas present.
The Samsung SLM is a clamshell design mobile phone which offers the user a 176 by 220 pixel internal display, 512MB onboard memory, microSD storage for music libraries and images, Bluetooth wireless networking, advanced messaging, and a 2 megapixel camera.
This mobile handset allows the user to connect to Napster mobile and allows the user to actively sample, buy, and download music from Napster's extensive music library of five million music tracks. The Samsung SLM will be the first mobile phone from AT&T that offers the companies renewed teaming with Napster which was announced previously last month.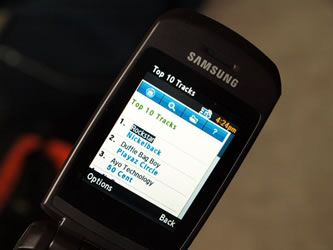 Users of the Samsung SLM will obviously be able to purchase song via Napster on an a la carte basis at a price of $1.99 per track, and at five songs downloads per month based on the Napster Five Track Pack option which costs $7.49, also Napster Five Track customers will receive their first five songs for free.
Another advantage with the Samsung SLM is that users don't only gain Napster, but also can tap into Pandora, XM Radio Mobile, and the MusicID song recognition service as well. Another first with the SLM from AT&T and that is to support AT&T's mobile banking app that offers banking capabilities for Wachovia and Sun Trust bank users.
As for pricing of the Samsung SLM, AT&T has it at $149.00 with a $50.00 mail in rebate on a two year contract.
Source — halflifesource