The WND DUO Atom Dual SIM mobile phone
Coming soon from WND Telecom is their DUO Atom mobile phone a double SIM mobile phone that has an in-built gravity sensor. The Duo Atom is apparently a "life-enhancing multimedia solution which incorporates cutting edge technology."
The Atom's built-in gravity sensor allows the user to effortlessly move between two separate mobile phone accounts at a simple flip of the handset. The handset features a unique touch-pad app allowing the display screen and keypad to reverse as the handset is rotated 180 degrees, which will allow access to each mobile account in turn via the same touch-pad. Other features of the WND Duo Atom mobile phone are a built-in 3 megapixel auto-focus camera, MP3 player, TV-out, 128x64Mbits memory and 128Mbytes storage memory, with a 1.8 inch OLED 176×220 262K display screen, tri-band GSM 900/1800/1900MHz, and measures 109 x 48 x 14.5mm.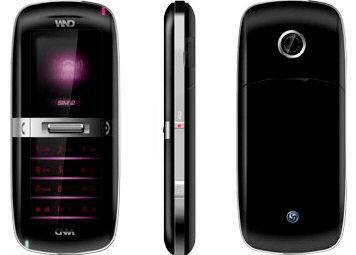 The Duo Atom also incorporates Bluetooth 2.0 connectivity, JAVA MIDP2.0/CLDC1.1, WAP 2.0 Access, microSD expansion slot. Switching SIM cards has never been simpler just turn the WND DUO Atom upside-down and the built-in sensors will re-orient the handset's display and activate the other SIM card, and when you wish to return to the other SIM just turn the WND DUO Atom back to right side up and you are now back with the original SIM account.
Currently the WND DUO Atom is billed at coming soon so there is no hard and fast availability date given. As for pricing, well again your guess is as good as anyone's as WND hasn't seen fit to publish a price yet either. However if you are one of the dual SIM toting mobile phone lovers out there I guess you'll be waiting with bated breath for more info on this cleverly classy phone.
Source — WND