The WND Wind DUO 2000 Dual Screen Mobile Phone
Busy life, always on the go, constantly needing two mobile phones, one for business and one for personal; why continue to carry two separate mobile phones when now you can carry just the one with the WND Wind Duo 2000.
The WND Wind Duo 2000 is unlike your ordinary mobile phone, it is a revolutionary innovation that delivers synchronised solutions. How does it do this? Well you could say the Wind Duo 2000 isn't just a single mobile phone but two mobile phones joined as one.
Other mobile phones offer different functionalities on either side of the handset, some offer dual SIM, but the Wind Duo 2000 offers two thin GSM candy-bar design mobile phones actually joined together back to back two make two phones in one and each with its own SIM. That's two screens, two keyboards and two SIM cards, two separate functioning mobiles in one handy handset.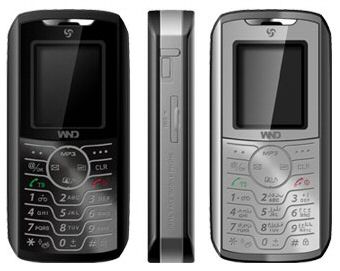 Spec wise the Wind Duo 2000 is tri-band GSM 900/1800/1900MHz, 1.5 inch OLED display on both sides, WAP 2.0, Java, MIDP 2.0, CLDC 1.1, 64 polyphonic MIDI and MP3 ringtones, Bluetooth 1.2, USB connectivity. The WND Wind Duo 2000 measures 97 x 48 x 17mm (pretty slim considering its two phones back to back) and weighs 100 grams.
So the draw with the WND Wind Duo 2000 mobile phone seems to be a simple one, its ideal for those people that require two mobiles but can now carry a single unit which acts as two phones. The idea seems to be a sound one, but I can't help thinking that it will be somewhat annoying if you are speaking on one side of the Wind Duo 2000, and then you get a sudden ear thumping ringtone going off direct into your ear as you are talking from the other side.
Source — WND