BlackBerry Pearl 8120 hits Rogers Canada soon
MobileinCanada is reporting that Canadian carrier Rogers is getting ready to add the BlackBerry Pearl 8120 mobile phone to its stable and alongside the GPS toting Blackberry 8110 which already sells from Rogers at $199.99 CAD on contract which is roughly $120.00 American.
As Rogers adores BlackBerry, and beings the Canadian giant's closest American analogue is AT&T, and who just happen to have both next generation BlackBerry Pearls, we see no reason as to why Rogers shouldn't happen.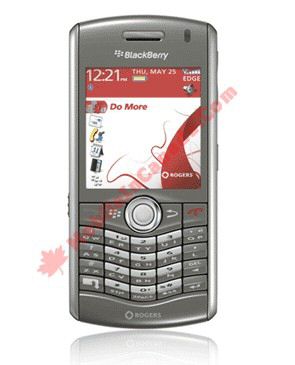 The BlackBerry Pearl 8120 smartphone packs WiFi connectivity along with GPRS and GPRS/EDGE and with features such as SureType QWERTY keyboard with backlighting, 2 megapixel camera, 64Mb flash memory, 3.5mm headphone jack, webmail and corporate email access, and measures 107 x 50 x 14mm with a weight of 91 grams.
As it is Rogers still sell the Blackberry Pearl 8100 proudly for a few bucks less, so if they play their cards right could end up with a Pearl triple on their hands. Although as yet Rogers has not announced any pricing for the BlackBerry Pearl 8120 smartphone, although if you judge by AT&T's strategy Rogers should be placing it just above the 8110.
Source — mobileincanada