Cigarette box 668 Mobile Phone: Can smoking and talking really damage health?
Now this is one for the books, many health experts say smoking seriously damages health as so do mobile phones apparently, well what the hell happens when you combine cigarettes an a mobile phone all in one package?
We all know that smokers have their cigarettes in their pocket and they also carry mobile phones, so when you think about it why have two separate items in your pocket when you can just have one. Well SpecialPhones.eu has a solution which goes by the name of "Cigarette box 668". We can see this causing mayhem with the health officials and yes all you anti-smokers, you can clearly see that the Cigarette box has Marlboro written all over it but it is not known if Marlboro are part of this idea but we do know that there are real Marlboro cigarettes in the mobile phone packet judging by the picture.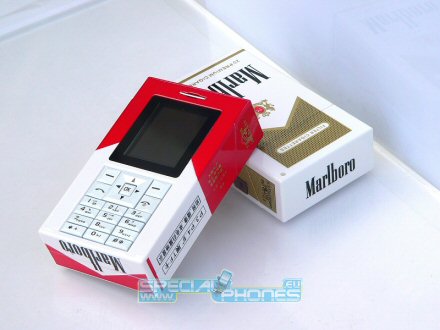 The Cigarette box 668 Mobile Phone specifications are written below, the Cigarette box 668 Mobile Phone has a price tag of ₤71.91 which you can buy via SpecialPhones.eu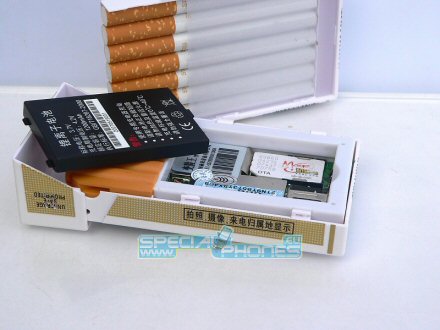 The specs –
– Dual-band 900 / 1800 MHz
– 1.8″ LCD Display, 260'000 colors, 176 x 220 px resolution
– Simplified Chinese, English, some other languages according to the quantity
– 64 chord polyphonic, MP3, MP4, MIDI Rigtones
– plays MP3 at background, equalizer support
– 3GP, MP4 Video, support to play in full screen
– 640 x 480 Camera, support to shoot with sound
– File formats JPG, GIF, MP3, MP4, MIDI, 3GP
– Memory – TF card(128M) as present, support to extend, Document management
– Data transfer – support USB direct read / U disc
– WAP, GPRS Internet
– Phonebook – 300 groups of contacts of carte de visit, support incoming call with big head sticker, grouping ring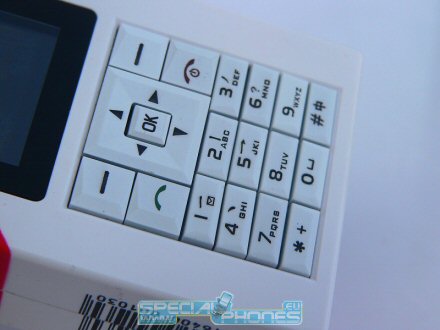 – Messaging – 200 SMS, support 100 MMS(MMS storage: 5000K)
– Power switch – support to start/close under set time
– Alarm – 3 groups; support alarm clock when machine's closed, support MP3 as alarm ring
– Games – Tetris Elements, Five In a Row
– MP3 & MP4
– Handsfree
– SMS group sending
– Voice recorder
– WAP & GPRS download
– E-book
– IP dial
– Self-designed ring
– Sound record
– Calculator, calendar, memos, notebook
– 120 – 200 minutes Talk time
– 150 – 220 hours Standby time
– 94 x 55 x 23 mm
– 80 grams
What do you think of combining cigarettes and a mobile phone?