Apple only has 3G iPhone: NTT DoCoMo Unveil 19 Phones in 906i and 706i Series
Apple only have the 3G iPhone coming soon which is nothing compared to the likes of NTT DoCoMo because they are launching a staggering 19 mobile phones this year in the 906i and 706i Series.
Below you will see the official press release but let me summarize it for you, the Japanese are true marvels and it proves what they are capable of, and to me this is basically telling all you waiting for the Apple 3G iPhone forget about your fantasies. Come on 19 new handsets unveiled, eight of the 906i series will boast 3G/GSM international roaming, HSDPA, 1-seg mobile TV, GPS, DCMX mobile credit card and iD mobile credit payment technology and full browser with Flash 8 support plus VGA LCD screens, text translation of Chinese, English and Japanese and will even support direct transfer of Blu-ray video.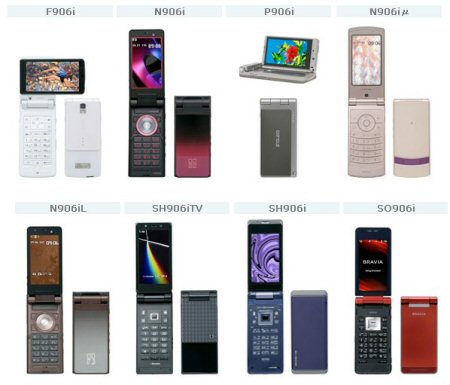 There are 11 handsets in the 706i series which will feature health and diet monitoring and is a waterproof 1-Seg phone as well plus includes the world's slimmest 1-Seg phone, all picture above shows the 906i series and picture below shows the 706i series, after the picture below is the full official press release.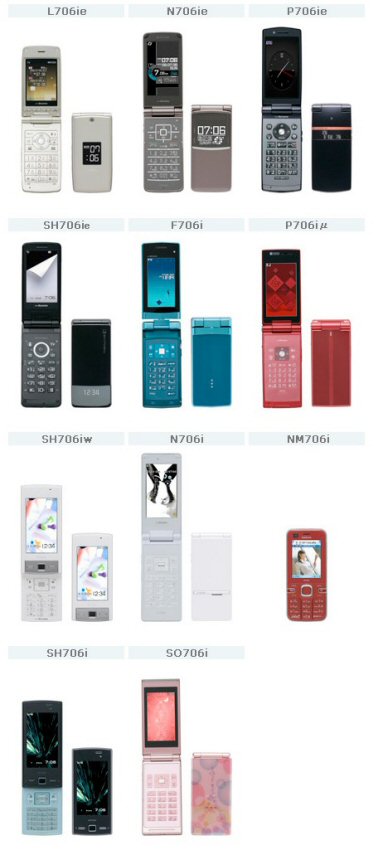 The Official Press Release:
TOKYO, JAPAN, May 27, 2008 — NTT DOCOMO, INC. and its eight regional subsidiaries announced today the new 906i and 706i series comprising 19 handsets and 64 body colors, which will be launched on or after June 1 (see charts below).
The 906i series' eight handsets are equipped for all-round functions, including 3G/GSM international roaming, upgraded GPS location information, HSDPA, "One-Segment" mobile TV, 2 in 1® (combines capabilities of two phones in one), DCMX® mobile credit card and iDâ"¢ mobile credit payments, VGA LCD screen and voice-to-text translation for Chinese, English and Japanese.
The 906i series enables full-spec enjoyment of diverse video content and services, including DOCOMO's Music & Video Channel, which provides more than 100 channels of downloadable broadcasts spanning 14 genres, and the new video portal on the i-modeâ"¢ top screen, which offers a wide array of free, searchable videos and clips. The handsets come with upgraded full browsers to play Windows Media® Video (all models except F906i) and Flash® 8 (all models except P906i) content commonly available on PC websites, and can upload movies and images of up to 2MB.
The new 706i series, 11 handsets in all, boasts slim, sophisticated designs and compatibility with "One-Segment" mobile TV. The 706i meets diverse needs with a wide-ranging lineup, including the Extra-Slim One-Seg Phone (slimmest One-Seg phone available), the Waterproof One-Seg Phone, the Wellness phone that monitors diet and health, and the enhanced Easy-to-Use phone with improved user interface. Some models are also compatible with advanced services such as HSDPA and 3G/GSM international roaming.
906i Series Launch Schedule:
– P906i – June 1, 2008
– SO906i – June 2, 2008
– SH906i – June 3, 2008
– N906iμ – June 4, 2008
– F906i – June 5, 2008
– N906i, N906iμ (STNY by Samantha Thavasa), N906iL onefoneâ"¢ – June, 2008
– AQUOS® Phone SH906iTV – June to July
706i Series Launch Schedule:
– F706i – June to July
– N706i, SO706i and P706ie — July
– NM706i, P706iμ, SH706i – July to August
– L706ie — August
– N706ie, SH706ie – August to September
– SH706iw — September
Features of 906i Series Models:
1. Enhanced Video Capabilities
– Music & Video Channel
o More than 100 downloadable programs covering 14 genres.
o Expanded compatibility with video clips, "i-appli" movies and more.
– Video streaming portal now located directly on iMenu (i-mode top page)
o Searchable video clips, including free content, for streaming.
– Upgraded file-uploading capability
o Upload animation/video files of up to 2 Mb to Websites.
– Windows Media® Video (WMV) and Flash® files
o More models than in previous series play Windows Media Video files.
o Enhanced Full Browser displays richer pages and plays Flash 8 files.
– "One-Segment" mobile TV broadcasts
o VIERA®, AQUOS® and BRAVIA® models offer upgraded features for viewing "One-Seg" programs.
– "Pocket U"
o Remotely access PC from phone (via secure VPN) to retrieve videos, music, photos or documents that can be played/opened/stored in the phone.
– "Home U" (N906iL only)
o Access high-speed broadband from mobile phone (via wireless router) to download large files and make low-cost VoIP calls.
– Video transfers from Blu-rayâ"¢
o Transfer video from Blu-ray recorders (via USB cable) for playback on phone.
2. Upgraded "Deco-mail" Features
– Deco-mail Animation
o Animate message backgrounds, as well as message text, for highly expressive communication.
o Mail display changes depending on date/time or buttons receiver uses.
– Deco-mail Picture with Flash
o Deco-mail accepts Flash attachments.
o Flash files can be embedded in Deco-mail messages.
3. More International Features
– Wider access to 3G/GSM international roaming
o 158countries/regions (i-mode in 118 locations, videophone in 45).
– iD now available outside of Japan
o iD credit payment services will become available in airports and major tourism spots in China (Shanghai and Beijing) and Guam from June.
– Speech translation now in Chinese
o Translation of spoken words for display as phone-screen text now available between Japanese/Chinese, as well as Japanese/English.
4. Other New Functions or Services
– GPS & Map Navigation with emergency guidance
o Maps with satellite (GPS) navigation guide user to evacuation sites and hospitals in emergencies, even if mobile network is down.
o Emergency bulletin board and location function help find family and friends.
– Registration for iD automatic with DCMX application
o Registration to use iD mobile credit service is processed automatically when user applies for DCMX mobile credit card.
– More models than in 905i series run voice/motion-activated "Chokkan Games"
– Pre-installed "Direct Menu"
o Customizable menu for easy access to frequently used functions and services.
– Shorter connection time with PushTalk
o Less connection delay when using PushTalk service for walkie-talkie-style communication with up to five people.
Main Specifications of FOMA 906i Series
Selected Services and Features Available with 906i Series
Main Specifications of FOMA 706i Series
Selected Services and Features Available with 706i Series