Take a trip with iTrip Griffins new Apple iPhone accessory
Griffin, the accessory people who came up with in-car iPod accessibility has announced a new accessory for the Apple iPhone called the iTrip auto with SmartScan. The iTrip allows the user to play their songs direct through the car's radio, the user simply connects the iTrip to the vehicles cigarette lighter, and it will not only transmit FM frequency waves to your Apple iPhone but will also charge the handset.
The Griffin iTrip features SmartScan system, a system that scans for the best frequencies and automatically adds the three best to the user's presets. Another great feature of the iTrip is it allows RDS broadcasting, this allows the song title to be displayed on your car radio's display.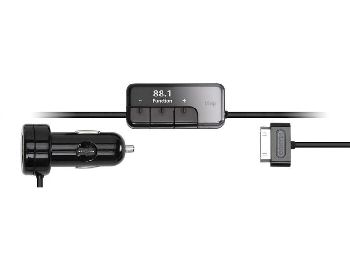 The iTrip's Autopilot system allows the choice of either controlling your Apple iPhone or Apple iPod via a perceptible control unit or the dashboard, and allows the user to switch songs with one finger press. ITrip even has a glowing ring that gives a visual indication of the charging status and moves from red to green on completion.
All sounds good, and you really can't go wrong with the iTrip, but if you feel installing it could be a pain any auto retailer should be able to install your Apple iPhone or iPod professionally at a cost of roughly £100.00, or if you want to do it yourself the Griffin iTrip should cost you about £60.00.
Source — techradar