Rev up with the Sony Ericsson Ducati Z770 as it zooms into Italy
Brand names are big business, and the mobile industry embraces the designer labels and automakers brand names. Let's face it if you've got a mundane mobile phone and want to make it shift well then slap a designer name on it and it'll move quicker, especially if the price is right.
And now there seems to be a new player in the game, a new famous brand the mobile industry can play with Ducati, and only Ducati are really putting out bike themed gear. So we now see the latest to be emblazoned with Ducati, the Sony Ericsson Z770 flip design mobile phone.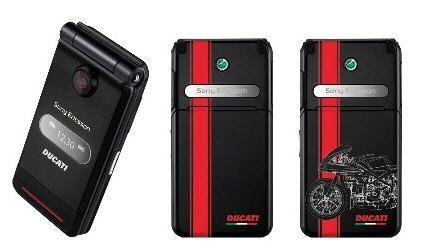 The Sony Ericsson Z770 Ducati branded mobile phone is due release in Italy in June, and isn't anything special in the mobile features department, but has the Ducati designer paint job along with a special Ducati themed HBH DS-220 headset.
The Sony Ericsson handset itself is a tri-band GSM non-smartphone clamshell style mobile with one of the slightly better browsers, measures 93 x 48 x 16mm with a weight of 91 grams and has GPRS, HSDPA, USB 2.0 + A2DP, and Bluetooth so it isn't that bad a mobile phone, and well that Ducati branding sure does look inviting, especially to the bikers out there. So biker dudes just remember to take the keys out of your bike when you are too busy walking off drooling over your new Ducati branded mobile.
Source — unwiredview