June 30th release for the HP iPaq 910 Mobile Business Manager
The HP iPaq mobile phone is Windows Mobile 6.1 Pro with a 416mHz processor, and will apparently be available on the 30th of June with a price tag of $500.00. The HP iPaq mobile phone is quad-band EDGE and tri-band 3G UMTS/HSDPA, and incorporates Bluetooth, Wi-Fi, GPS and 3 megapixel camera, and Windows Media Player.
The HP iPaq 910 fills a slot in the US mobile market that only one other carrier-supported device does, and that slot is a front-facing Windows Mobile, QWERTY keyboard, touch-screen on AT&T's network, namely the old Palm Treo 750.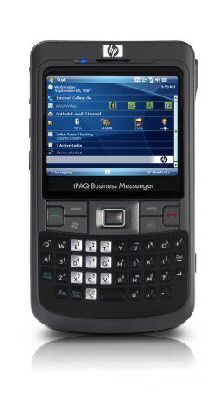 Although it is hoped that Palm will eventually shell out their Treo 850 sometime this summer, it appears as though maybe the HP iPaq 910 just might be able to steal a touch of Palm's thunder. The HP iPaq 910 is a business manager that brings email with high speed HSDPA 7.2 Mbps or integrated 802.11b/g wireless networking. The user can even connect their laptop or desktop PC to the Internet using your iPaq 910 and the built-in Microsoft Internet Sharing software, while measuring 114 x 64 x 15mm and weighing only 154 grams.
The question still remains though is if the Hp iPaq 190 will actually be picked up by AT&T, as yet there is no news on who the carriers going to be but hopefully it will be AT&T as rumours predict.
Source — wmexperts