Apple iPhone 3G to possibly gain eReader
If you think you really need another reason to persuade you to purchase an Apple iPhone 3G, we can tell you that eReader is coming to the Apple mobile handset which will allow the user to enjoy reading on the Apple iPhone 3G's large 3.5 inch display screen while on-the-move.
James Kendrick of jkOnTheRun actually asked the owner of eReader, Fictionwise about their plans for the eReader on the Apple iPhone 3G. Fictionwise apparently answered: "yes, we're working on it," but because of Apple's policy to approve each application that will enter the AppStore they are in the midst of "seeking information about what the criteria are to qualify."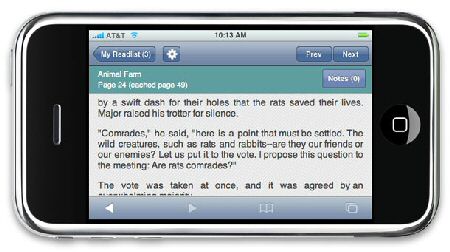 Apparently Fictionwise also stated: "Apple released their SDK for iphone/itouch on March 6. We have two Mac development experts doing the work to make eReader function on the iphone/itouch right now. Apple will allow third party applications, like eReader, to be used by customers after the next iPhone/iTouch firmware update which is currently estimated to be released on June 30 and we expect to be done with our porting work at about the same time."
Fingers crossed, hopefully Apple will let them do their thing on the Apple iPhone 3G, and if so soon enough Apple iPhone 3G users will be able to have thousands of book titles available to them via eReader on the iPhone 3G.
Source — jkontherun