Voice activated hands-free BlueAnt Supertooth 3 launches
Over in the United States many states and cities are now moving towards hands-free laws which make it illegal for anyone to use a mobile phone whilst driving a vehicle without making use of a hands-free kit, of which there are many available.
These new laws not only make the roads safer and save lives but have been a major boon to the manufacturers of Bluetooth devices, and the most recently announce device is from BlueAnt with their new Supertooth 3.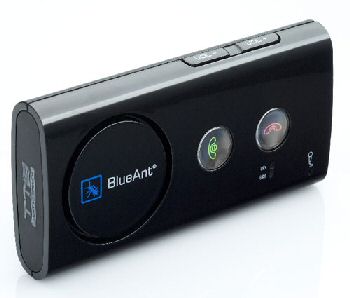 The BlueAnt Supertooth 3 hands-free device incorporates text-to-speech technology which means it will announce an incoming caller's name or identity information along with providing spoken setup instructions. The Supertooth can speak caller's names in six languages and these include English and Spanish.
Further features found on the BlueAnt Supertooth are DSP noise and echo reduction with full duplex high performance speaker, answer calls with the user's digital voice, digital volume control, charge the Supertooth from an AC outlet or an in-car power outlet or USB charging as well, and the BlueAnt Supertooth 3 holds up to 15 hours talk time and up to 800 hours standby on a single charge.
The laws are set in place, common sense demands that people turn to hands-free kits whist in charge of a vehicle, so don't break the law, don't cause an accident by answering your mobile phone, get a Bluetooth hands-free kit and stay safe.
Source — Reuters