Fido in Canada offers simply basic Nokia 3500
Many Canadian's are waiting for the big landing on Canada's Fido on 11th July, but for those Canadian's who are looking for a more basic option the Nokia 3500 has arrived. The Nokia 3500 is of a candy-bar design and is tri-band GSM connectivity, GRPS/EDGE 850/1800/1900MHz. A small mobile device with a small price for Fido customers who aren't really interested in what's heading their way on July 11th.
The Nokia 3500 sports a 2 megapixel camera, MP3 player supporting MP3/AAC : MP3, WMA, M4A, AAC, AAC+ et eAAC+ files, Bluetooth, address book to hold up to 2000 contacts, picture and video messaging, embedded games such as BlockBreaker Deluxe DEMO, Midnight Pool DEMO, Millionaire 2 DEMO, Sudoku Garden DEMO, Wheel of Fortune DEMO.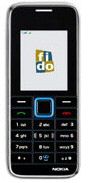 The Nokia 3500 measures 107 x 45 x 13.1mm and weighs 81 grams, with a 1.8 inch TFT display screen and 128 x 160 resolution. The battery gives the user up to four hours talk time and eight days standby time. The Nokia 3500 candy-bar is available right now for $100.00 sans a Fido agreement, or $90.00 on a two year plan, or only $15.00 on a three year contract.
So any of you Canadian's out there who don't want to wait and are looking for a good basic mobile phone check out the Nokia 3500 from Fido.
Source — mobileincanada