Mariner Calc iPhone Excel-compatible spreadsheet app: How will they store and excess files?
The original Apple iPhone is very good in itself but to be honest and I know because I own one, we all know that it was still lacking things like the viewing of Word and Excel documents.
Many users have always asked for more apps and of course the ability to edit those documents, well during the WWDC keynote we know that Steve Jobs from Apple announced the all new Apple iPhone 3G which got us all excited to say the least, he also mentioned the iPhone 2.0 software which would add the capability to view the cool iWork documents but to our disappointment it still lacks editing. So as usual like many other sites eyes have been stuck on new iPhone applications coming out of the wood work to fill this missing gap on the iPhone itself.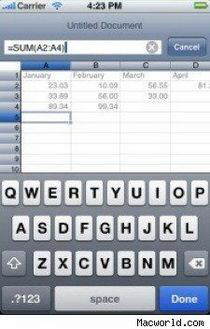 Come on businesses need this sort of app, well surprise surprise it seems during this years WWDC, the loving I want to give you a big fat hug Mariner Software announced that they will be porting/bringing its popular Excel-compatible spreadsheet for the Mac to the Apple iPhone which is fantastic news. At the moment the new application is only 80 percent ready and we should see it shipping as soon as Apple's App Store opens their virtual doors, come on hurry up we need it. Let me talk about the application itself just so you get an idea, the new application will support multiple sheets per document, objects and charts, and it will allow the businessman and businesswoman a much more productive use whilst on the go. You will be able to work with massive spreadsheets and in that we mean a maximum of 1,000,000 rows and 32,000 columns and the integration with the new version of Mariner Calc for Mac (Do you get it now).
Obviously no exact date or price has been set as of yet, but what we do know is the fact this new application will be right at the top of the expensive app charts. The question we would loved answered is "How will they store and excess files?