Gold plated Samsung D780 for Russian Olympic team
Available now in Russia is the Samsung SGH-D780 Gold Plated Edition mobile phone, which has become the official mobile phone of Russia's Olympic team, (lucky Olympic team!) As far as limited editions go, the only main difference is that it is plated in gold; the original version was launched in May of this year and has been well received.
The Samsung SGH-D780 is a double GSM SIM mobile phone which means you can have two GSM networks active at the same time without any need to reboot the mobile phone. The Samsung D780 also incorporates a 2 megapixel camera, FM radio, Bluetooth 2.0 and USB 2.0, with a 2.1 inch QVGA TFT display, music player with support for MP3/WMA/e-AAC +, microSD expansion slot with up to 2GB microSD card, 1200 mAh battery, and measures 115 × 49, 6 × 15, 7 mm.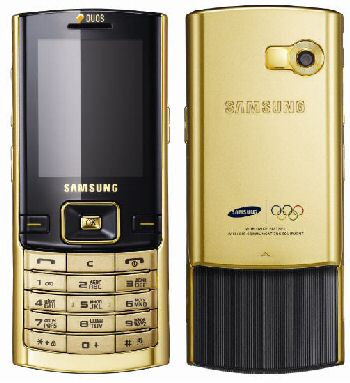 The Olympic Edition Samsung D780 has a gold plated shell and is decorated with the Olympic Games logo, and has been especially released in time for the Olympics in Beijing. The price of the Olympic Edition Samsung D780 has not been announced yet, but it will surely be higher than the one of the original handset, which is around 300 Euros, approximately $465.
Nice looking mobile phone, although I personally can't see why Olympic participants need a gold plated edition, especially if it is still basically the same as the original.
Source — unwired view via slashphone