Sprint Palm Treo 800w and red Blackerry Curve launches July 13: Will this beat Verizon?
Yesterday it was reported by son inventory paperwork from Sprint that they have a launch date for the Palm Treo 800w, which has moved up a week to the new date of July 13, all good seeing the general availability then.
The question is "Will this beat the Verizon launch? Well it seems so, you know like when Sprint did the same with the Centro. It is all happening because on the same day July 13th a new red Blackberry Curve will be launched as well. So it seems the mobile phone market is very strong at the moment what with the Apple iPhone 3G coming on July 11th then these new models listed above on July 13th. You do not have to be a rocket scientist to understand that these companies are trying to compete for the same target audience.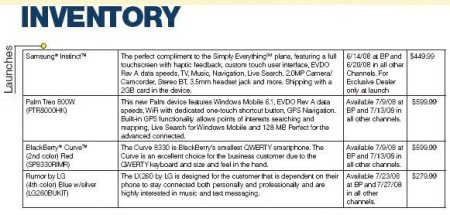 Have you noticed something though? All mobile carriers are avoiding the launch of new products around July 11th and that is why the likes of Sprint have set a day for 2 days after the 3G bonanza. Oh we are so loving the month of July, we can see some amazing mobile wars going on, but your will become the victorious ones. Out of the two phone the Sprint Palm Treo 800w and the red Blackerry Curve, which one would you choose to buy?
Source – WMExperts