Verizon Wireless looking to say goodbye to Vodafone?
Speaking in an interview with the Financial Times recently, Verizon Chief Ivan Seidenberg revealed that he would like to see Verizon take full control of Verizon Wireless, which at the moment is a joint venture between Verizon Wireless who hold 55 percent and Vodafone.
Despite saying Vodafone" has been a great partner," and given that Verizon is "doing 100 percent of the work," the general tone of the conversation points to relations between Verizon Wireless and Vodafone are somewhat strained to say the least. Furthermore, Seidenberg believes that once top honcho Arun Sarin hands over the Verizon reigns to Vittorio Colao next month, that "maybe he'll want to do something different."
Seidenberg said: "You know, "different" as in "sell off $60 billion worth of Verizon Wireless to Verizon Communications."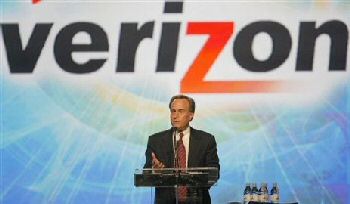 Seems Seidenberg was quite talkative as he went on that Sarin wanted Verizon to purchase Alltel last year, however Verizon Communications backed off fearing a bidding war with Texas Pacific Group and Goldman Sach's private equity unit. But it seems all's well that ends well because Verizon Wireless agreed to purchase Alltel a couple of weeks ago for $28.1 billion.
So with all this frankness coming from Seidenberg, does it mean that we will be seeing a split between Verizon Wireless and Vodafone sometime in the future? We'll just have to stand by and wait to see what happens.
Source — engadgetmobile