$24 per month for iPhone 3G in Hong Kong from 3?
Previously Hutchinson Telecom announced their branded 3 wireless network is to offer the Apple iPhone 3G in Macau and Hong Kong, and now Hutchinson Telecom announce their iPhone rate plans. These plans will probably make AT&T iPhone 3G customers a little greenish with cash-less envy as 3 is to offer their Apple iPhone 3G rate plans beginning as low as $24.00 per month, that's $188HKD.
Apparently the lowest calling plan will offer 500 minutes heart-to-hear minutes, 500 wireless minutes, 15 SMS text messages, 25 multimedia messages, unlimited Intra SMS messages, and 500MB of data usage. Those 3 customers who opt for this particular plan will also be able to acquire their own 8GB Apple iPhone 3G handset for $377.00 that's $2,938 HKD, or the 16MB Apple iPhone 3G for $479.00 or $3,738 HKD.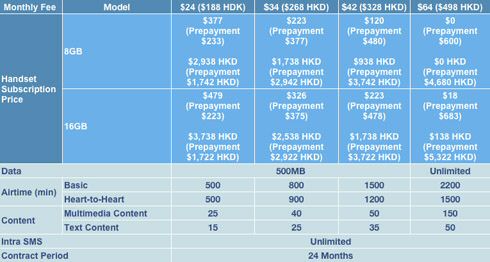 However for those iPhone customers wishing to opt for 3's higher calling plan it will cost them the sum of $64.00 per month for which they will receive, 1500 heart-to hear minutes, 2200 wireless minutes, 50 SMS text messages, 150 multimedia messages, unlimited Intra SMS messages, and unlimited data usage.
The higher, most expensive 3 plan subsidises the Apple iPhone 3G handset that will give the 3 customer an 8GB iPhone 3G for free and the 16BG iPhone 3G for roughly $20.00 or $138 HKD.
So, if you say compare 3's pricing plan with that of say Rogers Canada wouldn't you agree that 3 has the correct idea? Maybe Rogers should be looking at 3's pricing plan in future and taking note.
Source — appleinsider