Orange and BIC get a close shave with their PAYG mobile
Well you could call this one a close shave I suppose! Sorry bad joke I know. But apparently BIC, yes the same people who make the cheap orange coloured razorblades, and Orange, hmm wonder if that has any relevance?
Anyway, BIC and Orange have started to offer the BIC mobile phone in France, and are available in citrus orange and lime green. The BIC mobile phone is on pay-as-you-go with sixty minutes free and valid for up to two months from the time the BIC mobile phone is activated.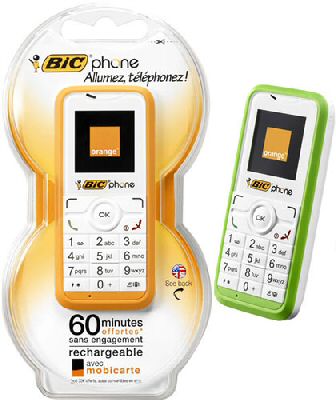 To take advantage of the free sixty minute service clients will have to identify themselves to Orange service agents…sounds a bit like MI5 doesn't it.
Apparently the telephone number so you can report in to Orange service agents is somewhere on the packaging and is valid for up to twelve months from activation of the BIC mobile phone.
And just how much is the BIC Phone? Well you can "shave" off a few Euros by purchasing the BIC for only 49 Euros.
Source — slashphone