Apple drops price on Apple Bluetooth headset by $30
Have you wanted a sleek and sexy Apple Bluetooth headset to go with you Apple iPhone, but just couldn't seem to justify forking over Apple's $129.00 asking price? Well if you have you will be happy to know that Apple in their infinite generosity has dropped their asking price.
Yeah rejoice, Apple has cut $30.00 off their Apple Bluetooth headset so now you can complement your shiny new Apple iPhone 3G for the sensational price of just $99.00 which puts the Apple Bluetooth headset just about on par with most high end Bluetooth offerings from any other headset maker.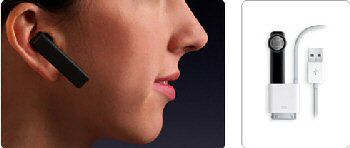 However to cut the cost Apple will no longer be bundling their iPhone/headset Dual Dock. In future the Dual Dock will be a separate sale for $49.00, which in fact will make the Apple Bluetooth headset/Dual Dock combination more expensive, but all isn't lost as the Apple Bluetooth headset ships with a dual iPhone handset and headset charging cable.
Source — intomobile