New .com endings in latest Apple iPhone 2.0 Firmware
Here's a neat new trick for all you iPhoner's out there in iPhone world who are running iPhone 2.0 firmware or possess an iPhone 3G. Remember originally when typing a domain name you could click the ".com" feature and it would complete the typing?
Well the .com was the only ending it would recognise right? Stuff like .org, .net, and even .co.uk were ignored, but not any more they aren't.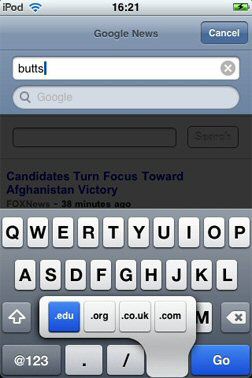 Gizmodo.com found out with the latest firmware when you type in a URL simply hold down the ".com" button for a few seconds longer and presto up pop three new endings such as .net, .edu, and .org, shame .co.uk is still missing but I guess you can't have everything.
Simply click on the desired ending and it will automatically be inserted into the address bar. A neat idea but one that could be done with in favour of say cut and paste in there somewhere!