Enhanced mobile entertainment as LG and Dolby join forces.
LG Electronics and Dolby Laboratories Inc have issued a press release stating LG will be the first mobile phone maker to incorporate Dolby Mobile across the globe.
As we all know Dolby is a renowned technology dedicated to precision audio, Dolby Mobile is an audio processing tech, which delivers rich, vibrate audio to the mobile arena.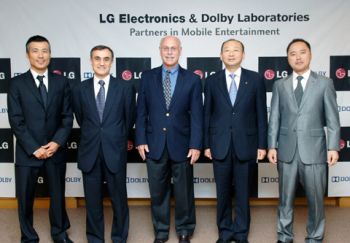 The president and CEO of LG Electronics Mobile Communication Company, Dr. Skott Ahn had this to say: "We believe this technology will raise the bar for audio quality on multimedia phones and expect Dolby Mobile to help us create a new trend in the mobile phone industry. LG is committed to providing our customers with the best features available and our new collaboration with Dolby helps us deliver on this pledge."
President and Chief Executive Officer of Dolby Laboratories, Bill Jasper stated: "LG shares our passion for cutting-edge innovation. This agreement combines LG's vision and resources with Dolby's pioneering leadership in entertainment technology to deliver the next generation of mobile entertainment. Our broad experience and success working with LG in the past gives us great confidence as we move forward."