US Congress ban in-flight mobile phone use
Apparently mobile calls while airborne are not only dangerous but also obnoxious, and thus are now illegal as Congress take a voice vote to ban the use of mobile phones on airplanes.
A report on The Associated Press sates that the House Transportation and Infrastructure Committee approved a bill to make permanent the Federal Aviation Administration and Federal Communication Commission ban on mobile phone use during flight.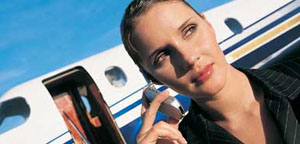 This move comes after listening to accounts from House members who use planes every week, accounts such as people making loud and annoying lengthy calls before take off and after landing, another said his wife sat next to a woman who loudly discussed her sex life on the phone.
The action follows as the European Union is debating on allowing flyers to use their mobile phones during flight.
Sponsor of the Halting Airplane Noise to Give Us Peace (HANG UP) Act, Peter DeFazio, D-Ore., said: "I do believe this is important that we don't make what is already a crowded and difficult environment for the travelling public and flight attendants worse by allowing cell phone use in-flight."