Industries first TD-SCDMA TV mobile phone unveiled by ZTE
During the Beijing 2008 Olympic Games ZTE Corporation is enhancing the viewing experience of 3G mobile TV as it officially brings out the U758 mobile phone.
The ZTE U728 handset is the mobile phone industries first TD-SCDMA TV mobile handset, which is a wireless mobile phone capable of receiving quality and crisp TV signals.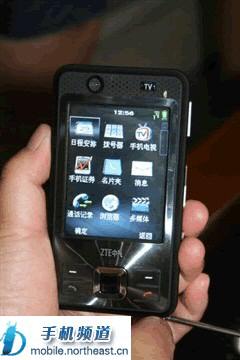 ZTE's U728 supports China Mobile Multimedia Broadcasting mobile TV tech, and is billed at ZTE's way of supporting the Beijing Olympic Games theme of "Technology Olympics" and should be available in time for said games.
The U728 is a dual mode wireless handset which supports TD-SCDMA along with GSM+CMMB with a 2.8 inch TFT LCD display, various 3G services such as WAP, JAVA, VP, MMS and video streaming.
Other features of the U728 include: Supports live TV program broadcasting at a maximum speed of 512 Kbps. A high-definition video phone that provides high-speed internet browsing. With 'hot keys' to easily play TV programs, pre-set and switch TV channels, hence saving users time on downloading and buffer loading. Enhanced user interaction with TV programs by allowing them to send program enquiry, receive and forward program details via SMS. Equipped with a built-in Ultra High Frequency (UHF) telescopic antenna that rotates 360° to maintain high accuracy for channel reception and low frame error ratio.
Source — 3G