SMS text to your Zoombak tracker will locate your stuff:Video
Want to keep tabs on just about anything, your dog, cat, car, kid, or anything else that springs to mind. Well now you can with Zoombak, a GPS tracker that can keep tabs on the location of most things
Zoombak's location can be monitored via an online map and gives the user the most real time updates on location of those things you really want to keep track on.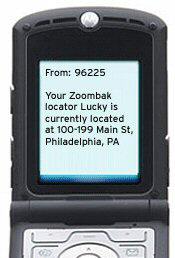 Zoombak has now expanded its feature set by adding the Mobile Location Request, which is by sending an SMS text message from your mobile phone with the word "FIND" to 96225 the user can request mobile updates on the location of their Zoonbak and receive a text message reply.
There are three versions of Zoombak and each come with a monthly service fee, which are: Car & Family Locator, Dog Locator and Universal Locator.
The Car & Family version costs $249.99, plus a monthly service fee of between $9.99 and $34.89. The other two versions cost $199.99 each, with the same range of monthly service fees.
Source — computerworld