Press Release: Sony Ericsson T700 Q4 of 2008
Sony Ericsson recently launched the all new T700 digicam and now they have announced the all new Sony Ericsson T700 mobile phone, which I must admit looks great.
The T700 mobile phone is a quad-band GSM and UMTS/HSDPA 2100 mobile which features a 3.2 megapixel camera with cell-id geotagging and photo light, 4.5-hours of 3G talk, 2-inch TFT LCD, Bluetooth A2DP, only 10-mm thin plus comes with 512MB Memory Stick Micro (M2). Read the full press release below for more information.
Press Release:
Shine with the new Sony Ericsson T700, a phone with slim elegance that will help you stand out from the crowd. This flawless phone combines timeless design and premium features for the mainstream market. Snap a great shot with the 3.2 megapixel camera and share it with your friends on your blog or web page. Boogie to the beat from the exquisite sound of the built-in stereo speakers, or through your phone's colour-matched headset.
Be the envy of your friends with the T700. Building on the heritage of the style icon Sony Ericsson T610, the T700 has the robust set of must-have features that you'd expect from a Sony Ericsson phone – but with the slim elegance that takes centre stage in a premium handset. At just 10mm thin this phone has a timeless yet fresh Sony Ericsson design and is complete with a 3.2megapixel camera and self-portrait mirror – ideal for those who are always well groomed and take pride in their appearance and possessions.
"Become a real head turner with the T700" said Sven Totté, Head of Marketing for the design category at Sony Ericsson. "Sleek and shiny, the slim elegance of the T700 gives users a premium experience at a mid-range price point – perfect for the design conscious. Everyone who bought and adored the iconic T610 will be keen to get their hands on the new T700."
The T700 is the quick way to add more emotion when you're in motion. Download film clips and view in vivid colours thanks to the 2" TFT display.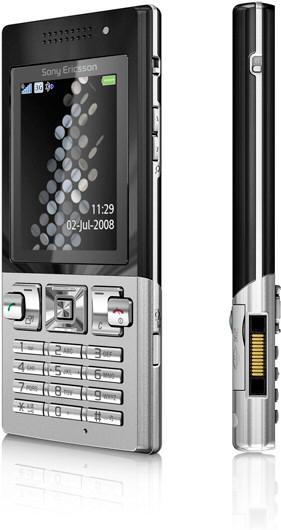 – The perfect slim elegant phone — slick stick design with premium metal finish
– 3.2 megapixel camera — snap a great shot and share with your friends via your blog or web page
– High quality stereo speakers — share your music with friends
– Colour matched headset — colour co-ordinate your accessories with your phone
– High speed sharing — via the operator network or Bluetoothâ"¢
– 512MB memory card memory in box — and even more to expand
– 2" TFT display — add more emotion when you're in motion, download film clips and view in vivid colours.
The T700 is a slim elegant phone for the mass market — whether you want a phone that looks good or one that is perfect to show off in an important business meeting.
The T700 is a GSM/GPRS/EDGE 850/900/1800/1900 UMTS/HSDPA 2100 phone that will be available in selected markets in the colours Black on Silver, Black on Red and Shining Silver from early Q4 of 2008.