iPhone App: 2008 Beijing Olympic Medal Count
There are so many apps out there for the iPhone like the "I Am Rich App" which caused a rumpus (See here) which are pointless, and now looking at this app for the iPhone called Beijing 2008 where you can get up to date info on the yes you got it "medal count" is not what you would call fantastic is it.
It does the job so to speak if you are an Olympics fan and many of us are hooked on the 2008 Beijing Olympics.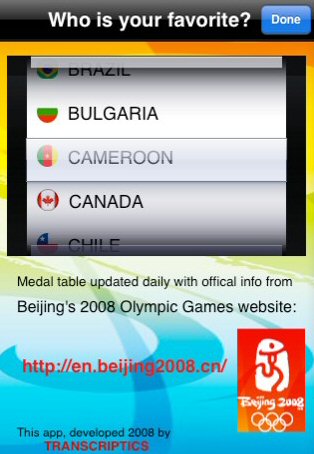 The new app that is available via iTunes will allow you to view the top 5 ranked countries; you can also select additional countries that you prefer.
This iPhone app is good in its own way; it does its job and is for those who are addicted to the Olympics and those that want the 2008 Beijing Olympic Medal Count. Beijing 2008 iPhone app cost £1.19 to buy. Go to iTunes or on your iPhone press the App Store icon and search Beijing 2008 then install. More information can be seen here.