BBSmart Shortcuts v1.4.1 for BlackBerry Smartphones
If you love your BlackBerry smartphones you really should get BBSmart Shortcuts, not only is this software easy to use but it is a very powerful productivity application that will help you immensely.
This application called BBSmart Shortcuts for many BlackBerry smartphones is a fantastic suite of shortcuts that you really should have.
To put it in simple terms BBSmart Shortcuts will allow you to create shortcuts to third-party applications, websites, calling, SMS'ing contacts, emailing and much more. This can all be set from the use of a convenience key press on your BlackBerry mobile phone.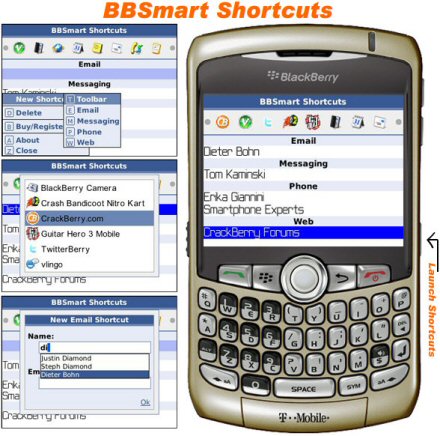 The main features with BBSmart Shortcuts v1.4.1 include Simple, easy to use software, Launch both native and third-party applications, Beautiful, clean, unique, and highly functional user interface, Create custom email, SMS, phone, and website shortcuts, plus Automatic contact lookup and integration with native address book.
A minimum requirement of OS 4.2 or higher, the price for BBSmart Shortcuts is only Price: $8.95.
Compatible BlackBerry Devices: 7130c, 7130e, 7130g, 7130v, 8100 (Pearl), 8110 (Pearl), 8120 (Pearl), 8130 (Pearl), 8300 (Curve), 8310 (Curve), 8320 (Curve), 8330 (Curve), 8700c, 8700f, 8700g, 8700r, 8700v, 8703e, 8705g, 8707g, 8707h, 8707v, 8800, 8820, 8830, 9000 (Bold), 9100, Curve, Pearl.
What you waiting for go get BBSmart Shortcuts from CrackBerry.