Battle gets bloodier in RIM Vs Apple war
The battle lines have been drawn between Apple and Research In Motion, which could see the biggest battle for mobile markets yet. By improving the iPhone 3G's email, security and allowing 3rd-party apps to run, Apple has clearly crossed the border into the business market previously dominated by the BlackBerry.
According to MacDailyNews, "RIM, besides blowing millions of buck on marketing will be in the near future: Pretending that antique technology wrapped in an iPhone-like exterior is innovation; Like every other mobile device company and non-iPhone carrier, totally ignore and never mention Multi-Touchâ"¢, especially vs. their single-touch-screen offerings; Talking up physical keyboards over touch-screen keyboards until they finally produce a device with a rudimentary touch-screen keyboard to tout; Watching their market share lead erode dramatically; and trying to keep their central email server online up in Canada."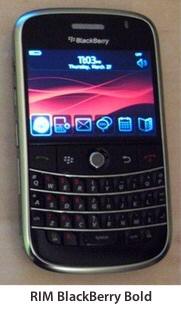 Personally I believe all this guff can only lead to good things for the mobile phone consumer, as sooner or later the way this mobile war is shaping up, we may start seeing a price war open up as well…now wouldn't that be good?
What do you think?
Images via here
Source — FT and MacDailyNews