Sagem to become Sagem Wireless by end of year
The company who are behind French mobile phone manufacturer Sagem is to stay with white-label manufacturing thus pulling the brand out of the mobile market after a £172 million takeover of the firm earlier this month.
Sagem itself however has not confirmed this either way.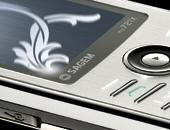 Segem's previous owner Safran sold the firm to venture capitalist company Sofinnova, however Safran kept back a 10 percent share of Sage, which is destined to become Sagem Wireless by the years end.
Under the new banner of Sagem Wireless the new company will develop and market mobile products under other brand names as well as on behalf of manufacturers and operators.
Sagem Wireless will also sell products from fashion companies, luxury companies and sports companies.
Currently, Sagem already has a large contract with Sony Ericsson and another with Vodafone to manufacture low end mobile phones under the Vodafone and Sony Ericsson brandings.
Image via here
Source — mobiletoday