Samsung i8510 in UK soon Register interest with Carphone Warehouse
The super sleek Samsung i8510, known as the INNOV8, a mobile phone that simply seeps technology, and loaded to the maximum in entertainment value, all encased in a sexy ebony casing.
The Samsung i8510 has been customised with the S60 interactive user interface along with a widget to bring the user real-time info, striking a faultless balance between stylish form and superb function.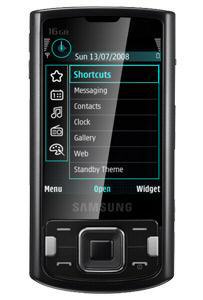 Are you one who is into photography? Then you will surely be please with the Samsung i8510 INNOV8's superb 8 megapixel camera with auto-focus. Or maybe you like capturing those special moments on video, well the Samsung i8510 has an LED video recorder too.
And now the Samsung i8510 is coming to the United Kingdom and is expected to become available through the Carphone Warehouse in September. Now you can register your interest in the Samsung i8510, and on doing so receive and exclusive offer on this mobile phone as soon as it hits the shelves.
To register your interest visit the Carphone Warehouse