Russia gains the Samsung i900 Omnia
The Samsung i900 Omnia has reached Russia something the Apple iPhone 3G hasn't officially accomplished yet. Samsung has begun shipments of a WiTu device to Russia.
Don't worry, I haven't gone crazy, the WiTu is actually the Samsung i900 Omnia mobile phone.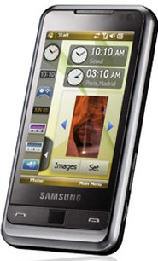 The Russian version of the much awaiting Samsung i900 Omnia will have all the usual features that other versions have, however it will also have custom widgets especially for the Russian market.
Apparently Russian local sports and news will be available along with a Russian to English and English to Russian so it seems the Samsung i900 Omnia mobile handset is all geared up and ready to go.
All Russia needs now is an official outing with the Apple iPhone 3G and they will probably have all the mobile phones they need to roam around Red Square with. Nice to see Samsung beat Apple to the steps though.
Image via here
Source — mobilewhack