Sprint to issue new applications updates for Samsung Instinct
The Samsung Instinct has received another update from Sprint in their attempts to fix data problems with the Samsung Instinct. There have been a few complains going around that various aspects of the Samsung Instincts applications, and it seems no matter how often Sprint update the problems continue to occur.
So after already issuing update to improve Bluetooth audio volume, signal and battery indicators, and web browser, Sprint has taken the steps to issue individual updates relating to various individual applications.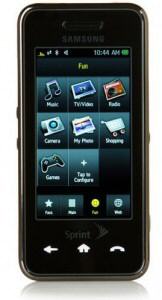 So the various updates to expect from Sprint will include updates for the web browser, Sprint TV and radio, picture mail, Sprint email, Sprint Music Store, Sprint Navigation, Mobile Sync and Visual Voicemail.
Samsung Instinct owners can expect various notifications on these relevant application updates in the near future, so don't expect them to come in one singular download package.
Source — mobilewhack