Nokia unveils the N79 mobile phone
Nokia has unveiled its Nokia N79 mobile phone, the latest handset in the Nokia Nseries. The Nokia N79 offers a full range of multimedia experiences encased in a sleek exterior.
The Nokia N79 offers up superior web browsing, integrated navigation, FM transmitter, 10 pre-loaded N-Gage games, high speed connectivity, and a 5 megapixel camera with Carl Zeiss optics.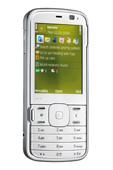 Director, Nokia Nseries, Juha Kokkonen, says: "The Nokia N79 packs cutting-edge technology into a compact design – a characteristic of the iconic Nseries – that allows people to discover, create and share their passions with others. It has been designed for those who want a device that is as appealing as it is powerful and comes with interchangeable covers that have automatically matching screen themes. This balance of performance and style means that it is a powerful and defining step forward from the popular and very successful Nokia N72 and Nokia N73."
The Nokia N79 will ship at the beginning of October 08 and will command a retail price of EUR 350 before subsidies and taxes.